IBA Japan Secretariat Staff
Gary Stanton, Secretary General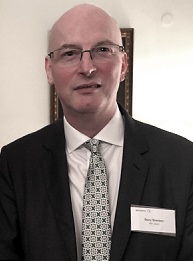 Gary Stanton assumed the role of Secretary General of IBA Japan in January 2019. Prior to that, he has had a long career holding senior roles in International Banking, Securities, and Wealth Management as a practitioner and later, as a Consultant and Senior Advisor. He has worked with both Japanese and Non-Japanese Firms advising on Regulation, Business Operations, and Technology.
He was an early practitioner involved in developing the market in Japan for Foreign Fixed Income and Equity Securities in the 1980s and early 1990s. From 1993, for 21-years, Gary lived and worked outside Japan, working predominantly on Cross Border Japanese  Business. He returned to work in Japan in August 2014. During his career, he has worked in the UK, France, Switzerland, India, and several Asia Pacific countries. From 2010 to 2020 he was a Chartered Fellow of the Chartered Institute of Securities and Investment (UK).
Iwao Toriumi, Senior Manager
Iwao Toriumi joined IBA Japan in May 2008 and is in charge of banking-related issues.
He previously served at the Bank of Japan for almost 20 years where he produced economic research and statistics, liaised with international financial organizations, and provided technical assistance to central banks in Asia. He was also seconded to the Ministry of Foreign Affairs (as an officer responsible for macro economic policies) and the Cabinet Office (as an economist).
He holds a BA in Political Science from Waseda University and a Master's degree in Public Policy from Harvard University.
Atsushi Hirayama, Senior Manager
Atsushi Hirayama joined IBA Japan in September 2019 and is in charge of securities and capital markets.
He previously worked at Mitsui Trust and Banking, Japan Bankers Trust and more recently Mizuho Securities Co., Ltd. where he was part of its legal department for 20 years, looking after various legal issues including cross border transactions.
He holds a Bachelor of Laws (LL.B) degree from Waseda University, and a LL.M. from New York University School of Law.
Harumi Takiguchi, Finance & Administration Manager
Harumi Takiguchi joined IBA Japan as Finance & Administration Manager in July 2021. Before joining IBA Japan, she worked for a major international corporate in an office management role and before that a major international financial institution. She has experience in accounting, planning, marketing, communications and general office management.
Eri Inada, Executive Assistant
Eri Inada is the Executive Assistant to the Secretary General, and joined IBA Japan in February 2021. She previously worked as a head of treasury and dealer support at a global financial company in Tokyo.
Kent Kitagawa, Marketing and Member Relations
Kent Kitagawa joined IBA Japan in August 2020 and is responsible for the seminar and webinar series, marketing and communications, including website and media management. Prior to joining IBA Japan he worked as a Coordinator of International Relations in Hokkaido, Japan.