The world in 2020: Economic outlook and political landscape
English
IBA Japan Seminar: Economy
With the global economy palpably slowing and 2020 just around the corner, a number of key events are fast approaching, including: US Elections, the Fed's release of its strategy review, Brexit, and the Tokyo 2020 Olympics.
We are pleased to welcome back to our seminar series the well-regarded and experienced Dr. Paul Sheard. Paul will be sharing his insights on these events, how they are unfolding and what their impact may be on the financial services industry, markets, policy-making and the broader global economic landscape. Additionally, he will be sharing some observations made during his recent participation at the October IMF/World Bank Annual Meetings in DC.
In his presentation, Paul will be covering key current affairs issues, including:
The Trump economy and the US-China trade war.
Brexit and the future of the EU under the new European Commission.
Japan and the BoJ' s policy post-consumption tax hike.
How policy makers are likely to respond in the next economic downturn.
---
Paul Sheard
Paul Sheard is Senior Fellow of the Mossavar-Rahmani Center for Business and Government at Harvard Kennedy School. Previously, he was Vice Chairman of S&P Global, after serving as Executive Vice President and Chief Economist. Earlier, he held chief economist positions at Standard & Poor's Ratings Services, Nomura Securities and Lehman Brothers, and was Head of Japan Equity Investments at Baring Asset Management. Sheard was on the faculty of the Australian National University (ANU) and of Osaka University, and was a visiting assistant professor at Stanford University and foreign visiting scholar at the Bank of Japan.
Sheard is a member of the World Economic Forum's Global Future Council on the New Economic Agenda and was a member of the WEF's Global Agenda Council on the International Monetary System (2010-2012). He was appointed twice, by Prime Minister Hashimoto and by Prime Minister Obuchi, to serve on committees of the Japanese Government's Economic Deliberation Council. He is on the board of the Foreign Policy Association and is a member of the Bretton Woods Committee, the Council on Foreign Relations, and the Economic Club of New York. Sheard served as a non-executive director of ORIX Corporation (2003-2010). He speaks regularly at conferences around the world, and his views on the global economy and policy are frequently cited in the international press.
Author or editor of several books and numerous academic articles, Sheard's book in Japanese, Mein Banku Shihon Shugi no Kiki (The Crisis of Main Bank Capitalism), won the Suntory-Gakugei Prize in the Economics–Politics Division. Sheard has a BA (Hons) from Monash University and a Master of Economics and Ph.D. from the ANU, and received a Doctor of Laws honoris causa from Monash University.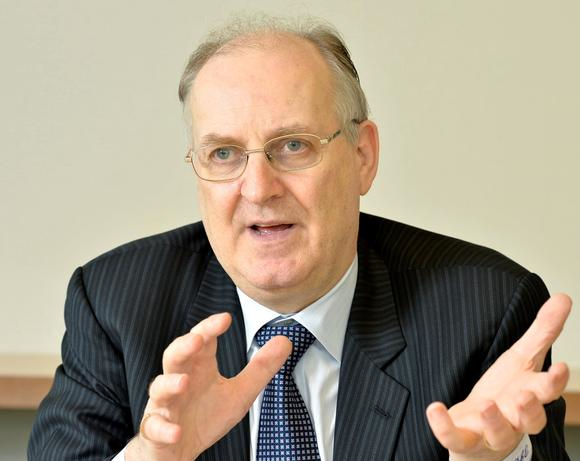 You must login to register for the event.